Keepin' It Reel Lake Michigan, Manistee River Charters located in Manistee, Michigan 248-514-6638
Now that you've planned your fishing vacation of a lifetime,  let us help you plan a fishing experience that you will remember and treasure forever.   With years on the water in either Manistee River or Lake Michigan,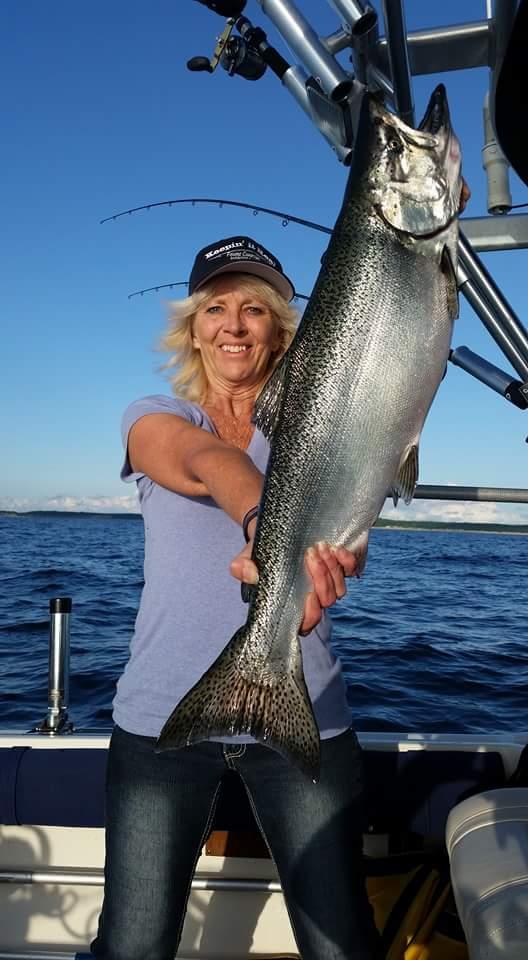 Ever dreamed of fishing in Lake Michigan or Manistee River waterways? Manistee,  known as the"Salmon Capital offers some of the best King salmon and Coho Salmon fishing in Michigan.  It doesn't matter if you're an amateur or an expert angler – with a rod and reel in your hands, our highly skilled Captain and crew will help you make that big catch just like the locals do!  Then we clean your catch exactly the way you like while you watch and wait, so you can have your "bragging rights" ready for your freezer.  We can also arrange multiple charters for your large group. Don't forget, we book up quickly, so plan ahead and make your reservation early.
Captain Greg of Keepin'It Reel Charters has spent a life time fishing and hunting our great state of Michigan!! From ice fishing inland lakes to Saginaw bay for walleye. Lake Huron in the glory days of coolers full of steelhead and kings to fighting the all mighty steelhead on the Manistee rivers. Fishing lake Michigan as a boy with his father to fulfilling his dream as an adult of owning his getaway in northern Michigan and becoming  charter Captain to take you fishing on the great Lake Michigan. As there are no guarantees in fishing Captain Greg has what they call a NO QUIT ATTITUDE and will do what it takes or go where he has to so you're on the fish!! Fishing aboard the 30 ft Tiara we will give this guarantee you will remember the experience for a life time and have a boat load of fun!!
After you are done fishing, ask us, we will tell you of some fabulous places of attraction right around our Port City Of Manistee and our beautiful area.  There are many golf courses in the area plus a casino. There are senic highways and sand dunes not far out of town. M-22 highway near by was named one of the prettiest highways in America.  And on any given day there is always the possibility of seeing plenty of wildlife as in eagles and some bears are around.
This institution is an equal opportunity provider and is operated under special use permit with the Huron - Manistee National Forest's
When you arrive, you'll soon see that Manistee is a beautiful western Michigan gem.  Let Keepin' It Reel Charters help you turn your fishing and tourism dreams into reality.
Bring The Whole Family! There is golfing, a casino, play park swimming, hiking, bike riding, snowmobiling here at Manistee.
2021 Photo's! Fish on Keepin'it Reel and see your trophy fish here!